Cynthia Pong is a lawyer-turned-career coach, feminist career strategist, speaker, and the Founder of Embrace Change, an organization that provides mid-career women of color professionals with tailored coaching and training. Cynthia is also the author of Don't Stay in Your Lane: The Career Change Guide for Women of Color. After studying law at NYU and practicing as a public defender for 6 years, Cynthia decided to change course. Now, she's on a mission to empower women of color to get the money, power, and respect they deserve.
Cynthia has been featured far and wide on Refinery29, HuffPost, Fast Company, and more. She is also a LinkedIn Top Voice for job search and career. When it comes to career strategies, she breaks it down easily and always keeps it real.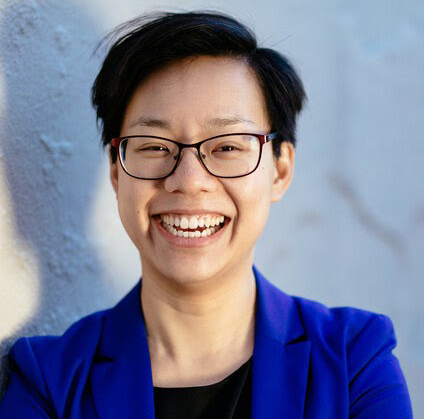 Here's a glimpse of what you'll learn:
Cynthia Pong describes her transition from lawyer to career coach
Allowing yourself to try a new career
The future for women of color in the workplace
How do you know if entrepreneurship works for you?
How to deal with racial trauma in your life
What is gaslighting and how can you recognize it in the workplace?
Cynthia's advice to young women of color starting a new job
Practical problem-solving skills for changing your career
In this episode…
What does your career path look like in the next 6-months, year, or the next five years? No clue? No worries; there's a book for that.
Cynthia Pong, career coach, ex-lawyer, and author of Don't Stay in Your Lane, is here to talk to you about the importance of addressing race, gender, and gaslighting in the workplace. She highlights the issues that women and men of color face in professional environments and when trying to climb the corporate ladder—and how to breakthrough.
Host Sarah Nichols sits down with Cynthia Pong, career coach, Founder of Embrace Change, and author, to discuss her life's mission to empower women of color in the workplace. Cynthia recalls her transition from working as a lawyer to operating in a field that helps women make space for themselves in their organization. She also talks about the steps you need to better communicate with your coworkers and unpacking racial mental trauma.
Resources Mentioned in this episode
Sponsor for this episode…
This episode is brought to you by Nichols Law, PC, a San Francisco-based firm that represents clients worldwide and is dedicated to ensuring that women are treated and paid fairly in the workplace.
Nichols Law PC was founded by Sarah Nichols and their mission is to close the wage gap for women and give a voice to employees. Nichols Law represents individuals in retaliation to their discrimination and wage and hour claims. They also assist employees in negotiating their exits from employers.
If you aren't sure if you're being treated fairly, visit their website at www.nicholslawyer.com and get a no-cost consultation. You can also send them an email at consult@nicholslawyer.com or give them a call at 415-504-3095.